I recently interviewed Harsha Vardhan, founder of the company Voliric Games, on his upcoming board game Kuru Dynasty. In the interview, Harsha explained why he decided to create a board game on an Indian historical period, showed off some cards and behind the scenes information, and discussed his experience as a board game creator.
What Is Kuru Dynasty?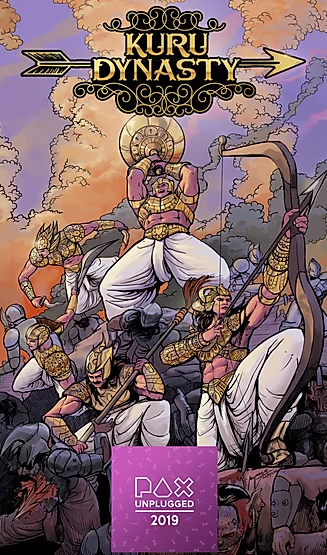 In the board game Kuru Dynasty, players will join the battle to win the war of Kurukshetra by joining the sides of either Pandavas or Kauravas. With 18 different characters and nearly 70 different weapons, each with their own powers, strengths, and weaknesses, there's tremendous replay value in Harsha's game.
Interviewing Harsha Vardhan On The Kuru Dynasty Board Game
It was great interviewing Harsha and learning more both about his game and his experience as a creator. Did you know that Harsha played over 150 board games in a year?
In the interview, we learn more about the Kuru Dynasty in India's history, see some of Harsha's favorite cards from his game, and discover the interesting and unique mechanics utilized. I love the artwork of the cards in the board game, not to mention of the poster shown above, and am looking forward to playing Harsha's board game when it launches on Kickstarter later this year.
You can learn more about the Kuru Dynasty board game by visiting their website.